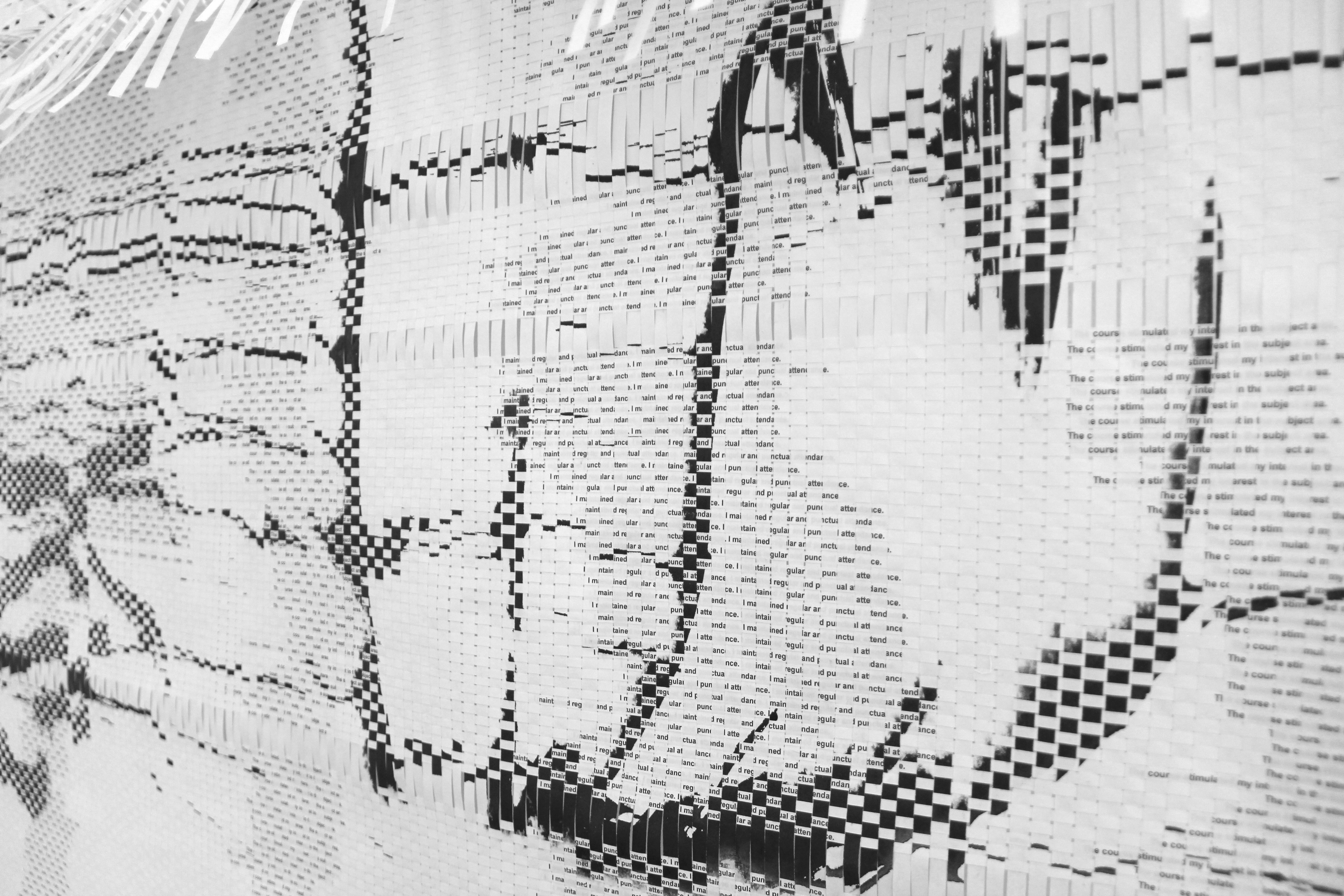 Credit: SITE Photography
Credit: SITE Photography
Credit: SITE Photography
Credit: SITE Photography
Credit: Four Eyes Portraits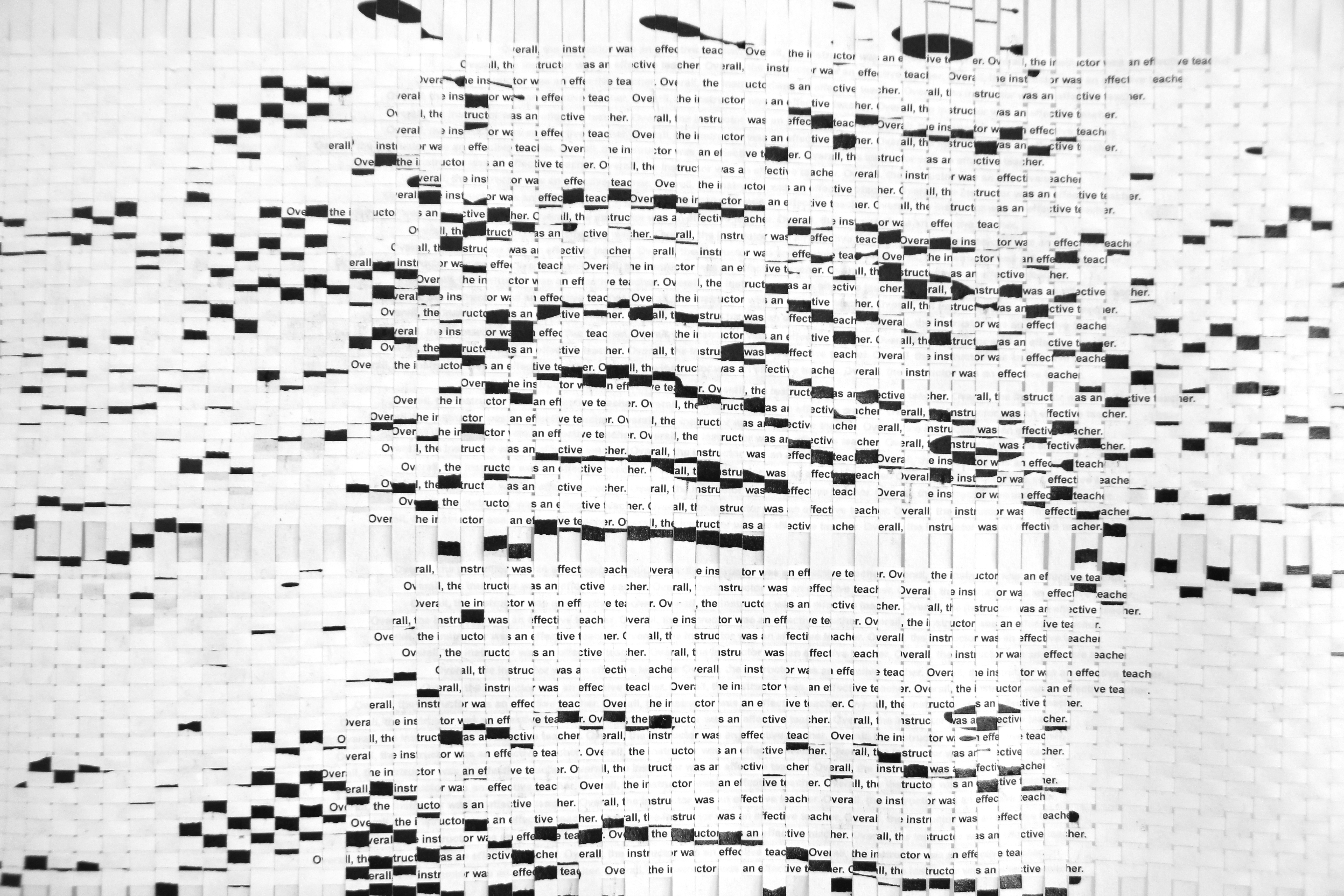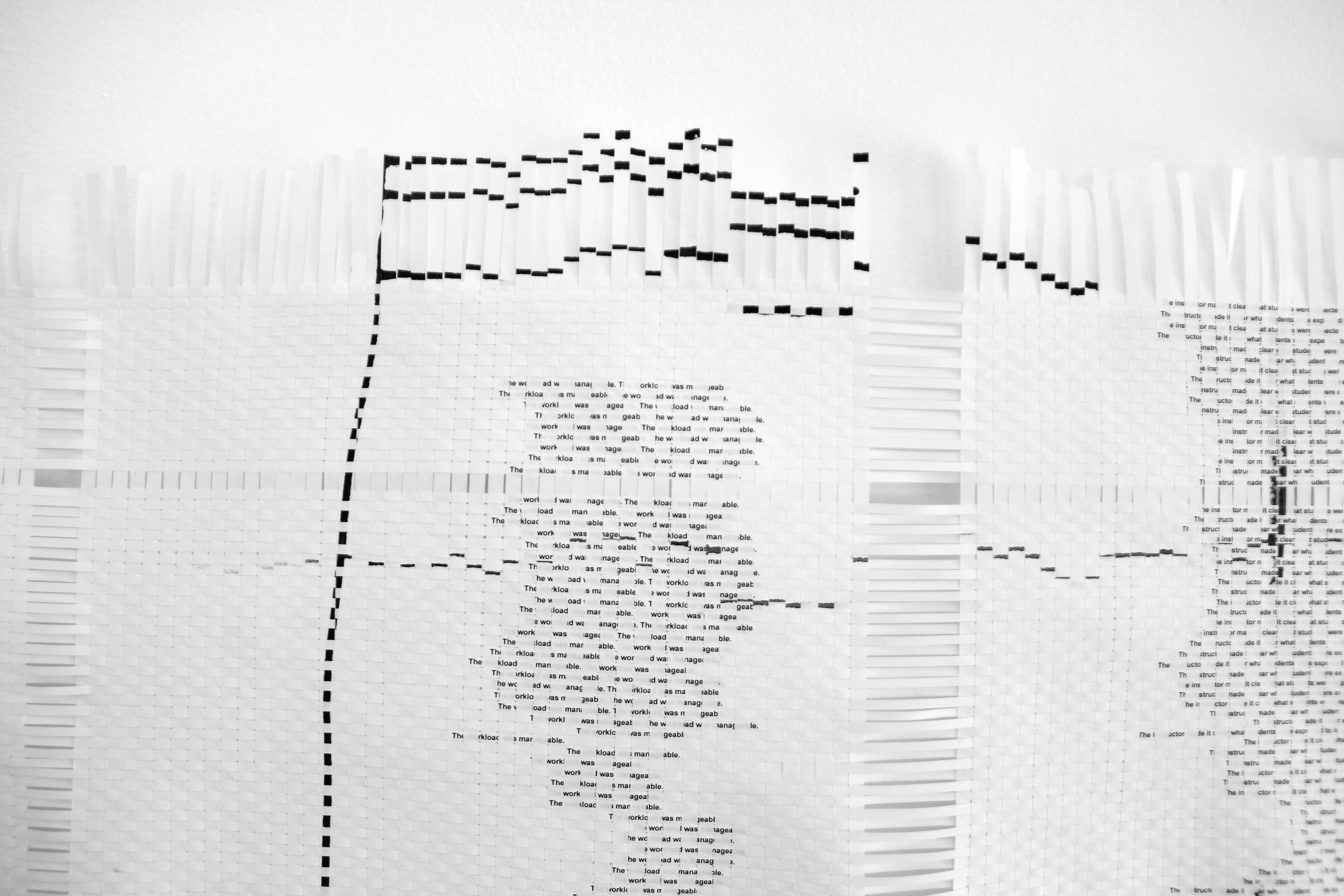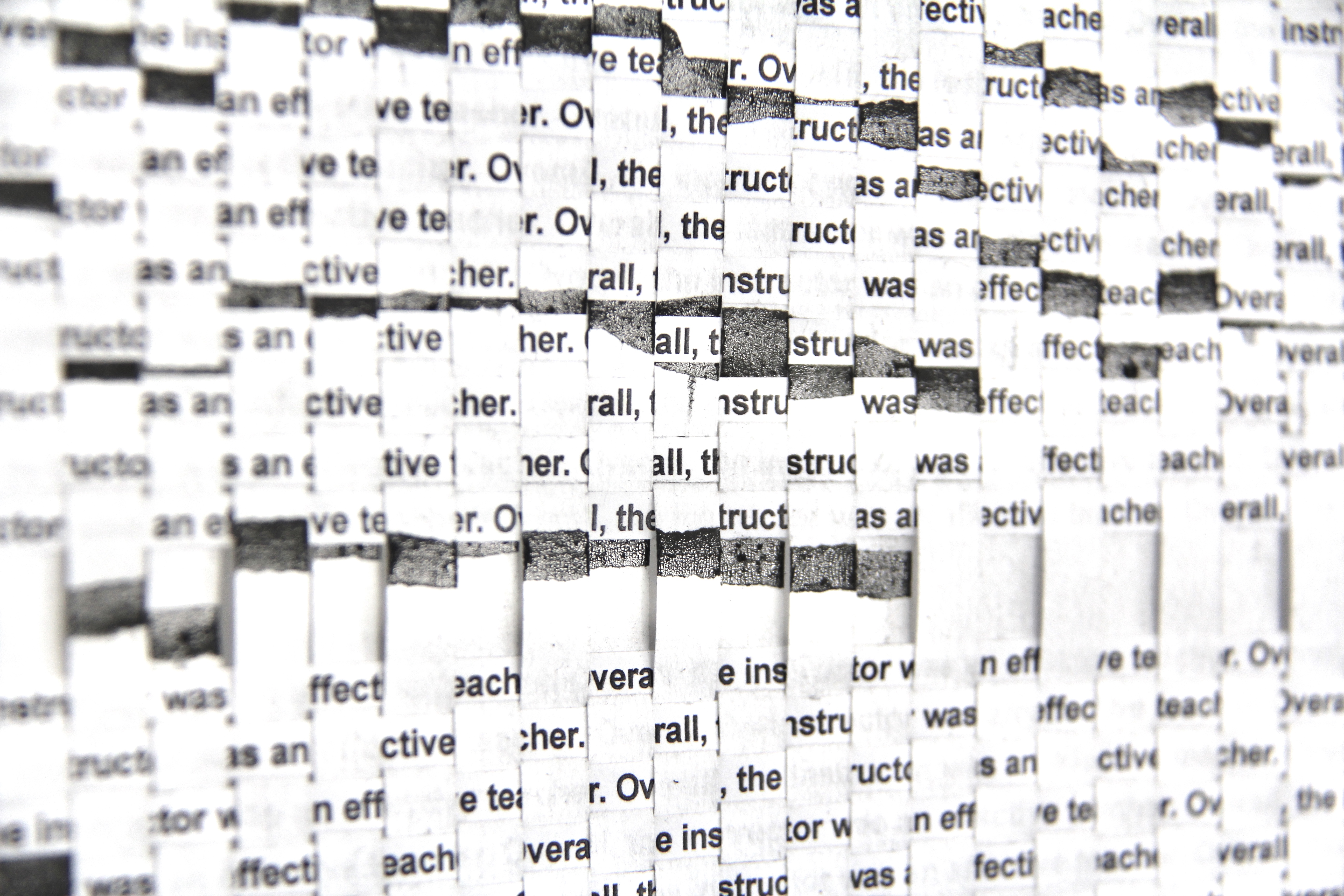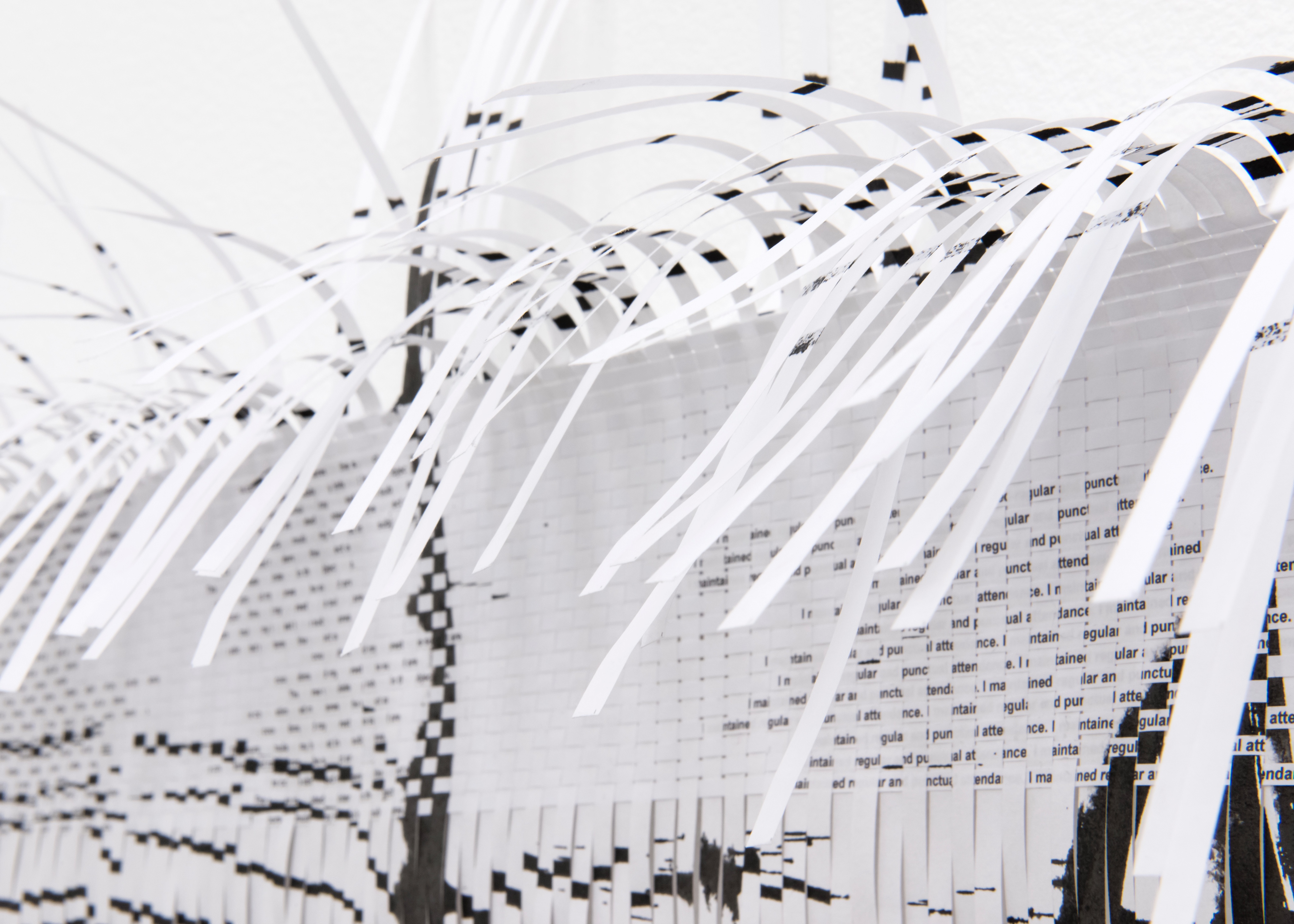 Credit: SITE Photography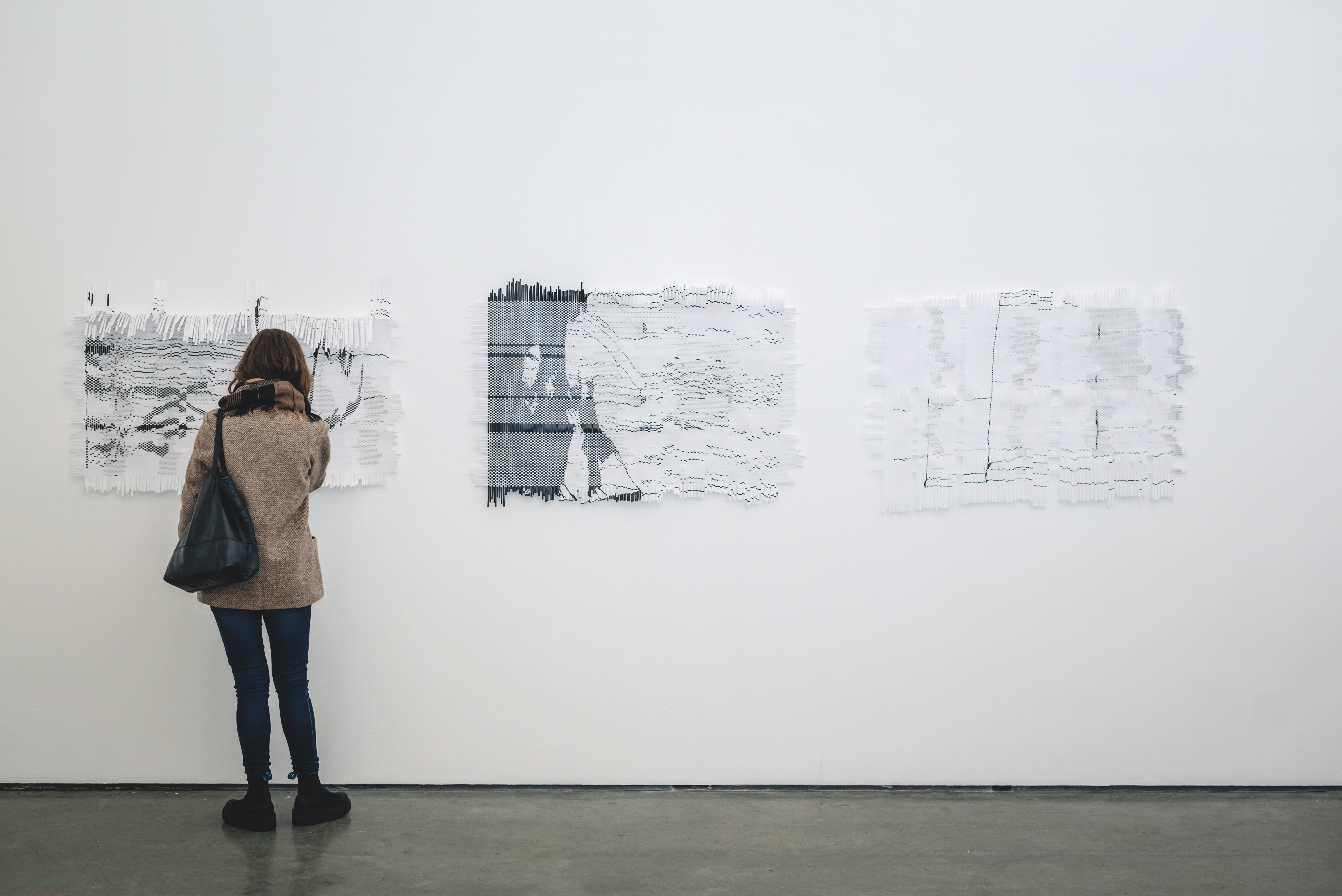 Credit: Four Eyes Portraits
Credit: Four Eyes Portraits
Installation shot also featuring works by Leisure, Steven Brekelmans, and Brady Cranfield
Credit: SITE Photography
Divination Objects
Ink on paper, woven
Dimensions variable, approx. 50 x 32 inches
2019-2020
Images from
The Artist's Studio is Her Bedroom
at the Contemporary Art Gallery, 2020, curated by Kimberly Phillips
Divination Objects
are a series of paper tapestries that were made by first splicing then weaving together two distinct source materials: 1) Ink stain drawings, made by dripping ink on paper or submerging paper sheets into ink vats, making up the vertical warp material 2) Text compositions containing prompts from academic teaching evaluation surveys filled out by students at the end of university courses, making up the horizontal warp material. The process of producing these materials was influenced by the
ikat
textile technique in which the horizontal and vertical threads of a rug are dyed before being woven, in anticipation of a final pattern that will emerge from the alignment and overlap of dyed areas. The particular future-investedness of this technique, with its organization of planning and anticipation towards an outcome, really interested me.
The ink drip is subject to gravity but also ends up making a mark that exists on the flat surface of paper, in two dimensionality, as a stain. Text occupies a similar double-position in that it can be read linearly, sequentially, while also existing as blocks of shape - it can be read and interpreted as language and outside of language. Gravity is a material force that directs the very processes of our daily lives, including our growth (holding food up, finding our way onto our two feet) and decay (bones getting brittle, skin sagging). The material and social forces that shape our individual and collective lives interrelate, mimic and conflate with each other; it seems that the terms of the very mobility of these relations make up a temporal ethics which should be at the core of living and learning.
The teaching evaluations, besides being a controversial means of measuring teaching effectiveness with their openness to gender and race bias, all the while being the basis for the continued precarious employment of contract faculty, are both symptomatic and constructive of a pedagogy that focuses on efficiency. The teaching evaluations not only represent the temporal vulnerability of the academic precariat, but an atomized and risk-averse pedagogy at large. They reflect a certain attitude towards future, a futurity, that is always predicated on precedence, on possible configurations of available options, even when that means an absorption of unprecedence into precedence. While students, in an increasing way, are living with a sense of "no future" (rising costs, ecological mayhem, but also the slow implosion of the economic structures that make up the university, unavailability of permanent jobs after education) and the grading of the teaching evaluations is offered as a way to patch up this dissonance. "The instructor used class time effectively." ,"Overall, the instructor was an effective teacher.", "The instructor made it clear what students were expected to learn.", I can see ways that content learned in his course will be useful for me.": with both their content but also their definitive sentence-form, these phrases recast the temporality of learning as an idealistic timeline. The narrative statements create very particular relationships between cause and effect; intention, action and result; creating closed-loops that do not correspond to the factors of vulnerability, trust, and risk that learning encapsulates both for the teacher and the student. By presenting students sentences to grade (in the form of assigning a number from a scale or choosing from levels of agreement) they re-organize the timeline of learning experience and ask students how well their experiences have matched this timeline, they crate a certain ideal that is cast as truth, normalized and objectified.
Divination Objects
were produced with the intention to accompany a live performance which would take the form of a casual talk to an audience (which would be presented during the exhibition at the CAG but was cancelled due to Covid 19). The base script of this performance employs a narrative form that goes back and forth between describing "events" and "scenes", dynamic and static forms, insofar as these can be distinguishable from each other and which at times intermingle and transform into one another. I physically interact with the works, and particularly, the marks on the works. I speak to the audience in a semi-spontaneous monologue that combines divinatory, diagnostic, psychoanalytic, pedagogical, and aesthetic-interpretive rhetorics while approaching the marks in distinct ways, casting them as maps, tests, clues, points of evidence, examples, and divinatory signs.
In my grandmother's reading of coffee ground stains, a deciphering of what is internal to the listener (what they may be thinking or feeling) and what is to come their way (an opportunity or danger, a
kismet
) has often merged. She has also never hesitated to include what she already knows from common conversation (which is supposed to remain "apart" from a practice of fortune-telling proper) into the contents of her coffee-cup reading (For example, last time she read my fortune, she mentioned a "big opportunity" coming my way; this was right after I had told her that I had received a job offer). It is this heterogeneous aspect of the coffee-reading, which is performed among family, friends, and neighbours, connects known to unknown to known, forges relationships between revealing and willing, that has made me wonder what is possible beyond the iconographical analysis of marks in an artwork, a picture, a shape.
Parsing through image-based divination techniques and how these could inform our scholarly interpretation of images, Begüm Özden Fırat notes that, "The act of the fortune-teller is an act of subjective re-narrativization of the image that does not necessarily coincide with a preceding text."* Consciously encountering and re-encountering the "details" of the image, interpreting and even over-interpreting them, may result in a semiotic narrative that bases itself on the primacy of pictorial detail. This requires an understanding of detail-interpretation as expanding beyond personal subjectivization -in the sense that, personal subjectivization generates an affect that starts from but diverges away from the work (as in the case with Roland Barthes'
punctum
)-, or even beyond an accumulation of these interpretations as "multiplicity of meaning" that hangs between the differences among the audience, outside of the work. In the case of fortune-reading, the narrative returns to the work to do the work, and in doing so partly defies the categories of subject and object, recasts the relationships between the symbolic and the material, uses an approach that belongs fully neither to processes categorized as accident (particular) and methodology (general), recasts the relationships between the historicity of the work with a history that starts and restarts every time we engage with the work and with each other, around the work.
* Firat, B. Ö. (2015).
Encounters with the Ottoman miniature: Contemporary Readings of an Imperial Art
(p. 28). London: I.B. Tauris.
From Kimberly Phillips' curatorial text:
"The Artist's Studio is Her Bedroom begins from the premise that the patriarchal conditions we inherited from modernism have profoundly shaped assumptions about where and by what means 'serious' artwork gets produced. This exhibition shares the perspectives of ten artists whose practices are attentive to these assumptions, and to the very real temporal, spatial and monetary constraints that bind and shape their work. Their contributions to the show address a multitude of labours—whether physical, emotional, reproductive or otherwise—that are often inextricable from artistic production. Some question myths of the studio and the "magical" labour of the artist. Others explore unconventional models of authorship, including the entanglement of childcare and creative work. Each, in different ways, asks how we navigate (or resist) our artistic and political inheritances, and how we might seek out alternate role models and alliances through which to better strengthen our creative communities.
(...)
Working across experimental mark-making, textiles and performance, Damla Tamer negotiates the relationships between aesthetics and politics, particularly the links between representation, intention, anticipation and agency. State violence in her native Turkey, her experience of motherhood and her work as a contract university instructor all influence her practice. Her ongoing series Divination Objects (2019-2020) draws upon a traditional ikat weaving technique, where threads are dyed in areas before being woven into a design. These works literally weave together cut-apart ink drawings, wherein she explores the weight of gravity as a physical force (crucially experienced during a baby's first year), with shredded compositions containing phrases from her teaching evaluations (now standard practice within the neoliberal university, contributing to risk-averse pedagogy and labour precarity). The warp and weft each hold traces of their materials' previous information, but now with misalignments, seepage and glitches. For Tamer, they call up artist Hito Steyerl's sobering claim that we can no longer fight vertical power with horizontality, and ask instead for a more nuanced response to that power."